Dr. Schumm is an ordained minister in the United Church of Christ (Congregational Church) and proudly claims the heritage of this progressive, liberal denomination. Consequently, he has performed numerous inter-denominational, inter-faith, inter-cultural, secular, and blended family weddings. Since 1992, he has had the privilege of officiating at same-sex celebrations. In addition, he has conducted renewal of vows for many couples.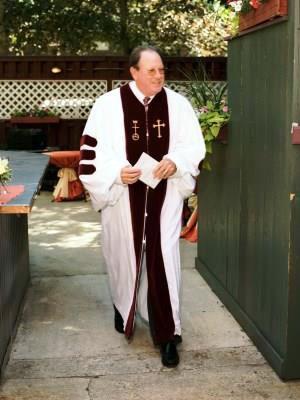 Rev. Dr. Gerald "Jerry" Schumm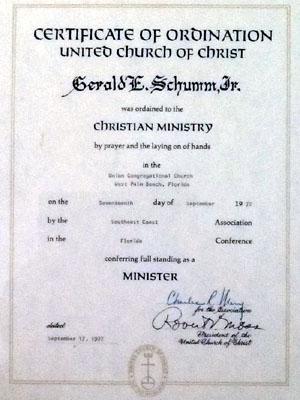 Ordination-1972
He is uniquely qualified to work with you in planning your ceremony based on the following credentials:

• Performed over 2300 weddings in church and secular settings.
• Ordained member of the clergy. He was ordained as a minister in the United Church of Christ in 1972.
• Earned Bachelor of Religious Education from Elon University (1969).
• Completed Doctor of Ministry (1993) and Master of Divinity (1972) programs at
Eden Theological Seminary in addition to post graduate studies at University of Miami.
• Focused his graduate work on research and practica related to marriage.
• Conducted numerous marriage retreats and seminars.
• Registered to conduct marriage ceremonies in Louisiana in Orleans Parish, Jefferson Parish,
St. Tammany Parish, and East Baton Rouge Parish.
• Qualified to conduct marriage ceremonies on the Mississippi Gulf Coast (Hancock County,
Harrison County, and Jackson County).
"May you have happiness, and may you find it making one another happy."